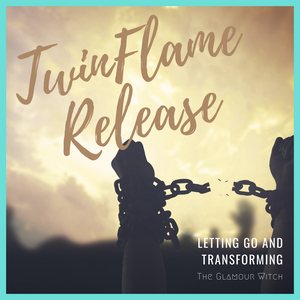 Twin Flame relationships are not only complex but very emotionally draining. These connections are meant to trigger soul growth and rapid transformation in the lives of the individuals experiencing this bond. When you come into union with a twin flame it can be a powerful and beautiful moment filled with such vibrant potential for a prosperous future. Oftentimes, one or both partners are asked to make changes and to transform, but when the work is resisted or ignore; huge upheavals and disagreements occur. This forces a connection to grow or to break around so that each individual can do their own work separate from the union. This is a truly heartbreaking and emotionally taxing time, and letting go can be extremely difficult. Sometimes even feeling impossible. The release of this connection for however long or short it may be is a painful but necessary transition for healing and transformation. This candle was designed to aid you in this time of release and acceptance, charged to support the emotional grieving, self-reflection, and restoration of inner peace & harmony. Light this candle after a major break-up between you and someone you believe to be a twin-flame, or use to support the time of separation so if reconciliation is possible both parties have leveled up in their own right and the union can move forward to the next chapter with a new sense of self/personal accountability.
This is not a reconciliation candle. This will not bring your twin flame back to you. This will assist in the healing process and restore balance during a period of separation. 
Pre-Order is Now Available!
I am required to state that this is a curio item
I craft the tools of Magick only, not the outcome.
Your own Energy and Intention are necessary