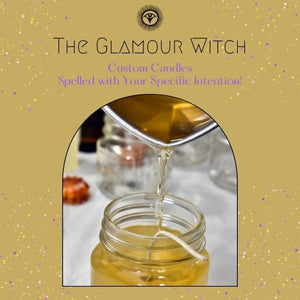 Create a custom candle tailored to your specific desires. You are a unique individual with unique life situations, sometimes you need something made just for you. 
I will customize the herbs, oils, and gemstones that best align with your intention, and you can also purchase the spell oil to match your custom candle! This will allow you to carry the vibration throughout the day and add the magick to your daily routine!
PLEASE INCLUDE AN EMAIL TO REACH YOU! WITHOUT AN EMAIL I CAN'T CONTACT YOU TO ASK WHAT KIND OF CANDLE YOU NEED! PHONE NUMBERS ARE NOT A RELIABLE CONTACT SOURCE! 
Once you have purchased your candle, you will receive an email confirming your information and collecting all the details needed to create your one-of-a-kind spell candle!✨🔮
I am required to state that this is a curio item
I craft the tools of Magick only, not the outcome.
Your own Energy and Intention are necessary