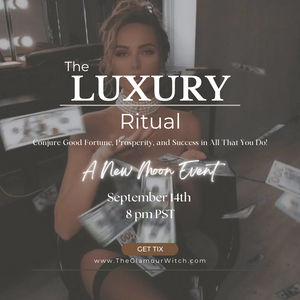 Calling All of My LUXE Witches!✨💅🏾🥂  On the bewitching New Moon in Virgo, under the cosmic alignment of Jupiter's blessings, join us for a night of unparalleled magic and wealth manifestation that will ignite the fires of your deepest desires.
Date: Sept 14th 2023
Time: 8 pm PST
Location: on Zoom!
🌟 The New Moon in Virgo: A Gateway to Prosperity 🌟

As the New Moon graces Virgo's celestial domain, it heralds a powerful opportunity to unlock the secrets of financial success and luxury. Virgo, the zodiac's meticulous planner, invites you to harness the energy of precision and attention to detail, channeling it towards your financial goals. During this celestial dance, your desires for wealth and luxury are illuminated, and you can forge a path toward their realization like never before.
🔮 "The Luxury Ritual" Unveiled 🔮
Our exclusive event, "The Luxury Ritual," will be a night like no other. A select gathering of like-minded souls, all drawn by the magnetic pull of prosperity and abundance, will convene on a sacred evening blessed by Jupiter. Under the shimmering night sky, we will unlock the ancient secrets of wealth manifestation through the potent art of spellwork.
🌌 What Awaits You: 🌌
🌟 Immersive Ritual: Guided by Me, you will participate in a spellwork extravaganza carefully crafted to draw forth wealth, luxury, and prosperity into your life.
🪄 LUXE Spell Oil: Each participant will receive a specially crafted, blessed, and charged LUXE Spell Oil, a potent elixir infused with mystical energies that will be activated during the ritual itself. This exquisite oil will become your talisman, carrying the essence of abundance wherever you go.
✨ Cosmic Connection: Harness the cosmic energy of the New Moon in Virgo and Jupiter's influence as you create a powerful bond with the forces of wealth and luxury, aligning your intentions with the universe.
🎫 Limited Tickets Available: 🎫
"The Luxury Ritual" is an intimate gathering, and tickets are extremely limited. Don't miss your chance to bask in the opulent energy of this rare cosmic alignment. Secure your place among the chosen few who will embark on this journey towards prosperity and indulgence.
Book your ticket now and allow the allure of "The Luxury Ritual" to lead you down a path paved with wealth and splendor. 🔮✨🌙🌟