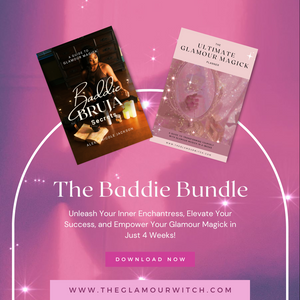 Introducing The Baddie Bundle: Your Ultimate Glamour Magick Transformation Kit
Unveil the secrets to harnessing the extraordinary power of Glamour Magick with our exclusive bundle, "The Baddie Bundle." This dynamic duo combines the profound wisdom of our enchanting eBook, "Baddie Bruja Secrets," with the cutting-edge functionality of our Glamour Magick Digital Planner, working in unison to amplify your magical potential and catalyze radical change in just 4 weeks!
Baddie Bruja Secrets eBook: Dive into the realm of mystique and intrigue with our meticulously crafted eBook, "Baddie Bruja Secrets." Uncover ancient rituals, contemporary spells, and a treasure trove of insights that empower you to tap into your inner enchantress. With a focus on Glamour Magick, this eBook is your personal guide to radiating confidence, enhancing charisma, and manifesting your deepest desires. Whether you're a seasoned witch or a novice explorer of the esoteric, these secrets will awaken the baddie within you and help you harness the transformative energy of Glamour Magick like never before.
Glamour Magick Digital Planner: Revolutionize your magical journey with our innovative Glamour Magick Digital Planner. Seamlessly integrating technology and the mystical arts, this planner is designed to streamline your rituals, intentions, and manifestations. Organize your spells, track the lunar phases, and set reminders for your daily enchantment practices. With interactive features and customizable sections, this digital planner adapts to your unique style and preferences. Witness the fusion of ancient wisdom and modern convenience, and watch as your Glamour Magick flourishes under the guidance of this intuitive tool.
Unleash Radical Change in 4 Weeks: The synergy between "Baddie Bruja Secrets" eBook and the Glamour Magick Digital Planner is unmatched. By combining these two potent resources, you'll embark on a transformative journey that accelerates your Glamour Magick prowess. Unlock your inner magnetism, radiate unshakable confidence, and manifest your boldest aspirations in just 4 weeks. Embrace the power to create a lasting impact not only in your own life but also in the world around you.
The Baddie Bundle is not just a collection of digital products; it's an investment in your own potential and a declaration of your commitment to living life on your terms. Embrace your baddie energy, harness the might of Glamour Magick, and let this bundle be the catalyst for the radical change you've been seeking.
Elevate your magical practice and redefine your reality with The Baddie Bundle today. Unleash the baddie bruja within, and let your Glamour Magick journey begin!