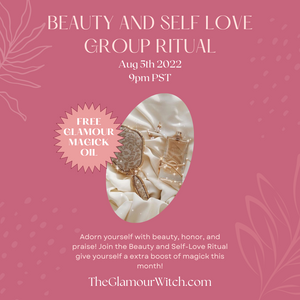 It's time to Heal!✨💕  We are stepping into the month of August with a boost of confidence, and I want to welcome you to join this Group Ritual for Self Love and Beauty Magick!🥂 Let's get our shine back!😉💅🏾 We will start our ritual with Heart Healing and Self-Love. Before we can get into our Glow Up we need to understand what's dimming our light, and this work will activate the healing of heavy emotional energy, supporting the grieving of old parts of ourselves that we are shedding, and clearing any negative self-talk that is standing in the way of total release! Then we will dive into our beauty spell, this will also be an interactive portion of the ritual and you will get a chance to do some magick at home! We will focus on body positivity, enhancing our personal magnetism, and bringing attention to our most beautiful qualities! Of course, this Group Ritual will be recorded so if you live in a different time zone, don't let that stop you from being a part of this powerful healing work!
All Members will receive a free 10ml bottle of my Glamour Magick Oil with their ticket!
This can be a loving gift for your loved one or to yourself!
Purchase Your Ticket Now!

Amazing Experience!
Alexis' self-love and beauty ritual was such an amazing experience, especially the divination done at the end. It was so carefully planned and I was able to see the active movement on my candle. I definitely plan to participate in another ritual soon.