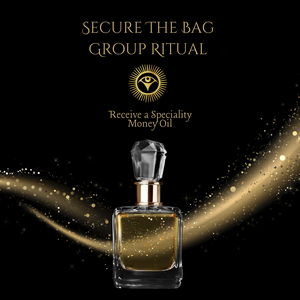 If you love my Secure The Bag Candle and Oil, you don't wanna miss this ritual! It's all about the money honey! In this ritual, we will be focusing on Jupiter Magick and  Angelic Prosperity. Calling in financial increase for business, promotions, or job opportunities. And opening the door to new avenues of money to flow in! In this ritual, I will be blessing and activating my new Luxurious Money Oils, and you will be the first to get your hands on this spell oil! All members are required to send in their petition before the night of the ritual, and will receive a 2oz bottle! 
This is the perfect ritual for:
Business Owners
Salespeople or anyone working in commissions 
If you are looking for more financial opportunities 
Or just looking to increase your income in general
All rituals are recorded for playback, so even if you can't be there LIVE, you can still witness the magick!
Sign-Up Now and be the first to receive this exclusive spell oil✨💅🏾