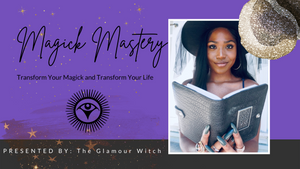 We are back for the reboot of my Spell Crafting 101 Master Class! I will break down the fundamentals of magickal applications, and spell creation! This is the PERFECT class for a beginner witch and even an intermediate witch who is looking for new ways to reactivate their practice. Learning the basics of spell crafting can open you up to your full potential as a practitioner of magick and help you discover your natural strengths. My class will empower you with tools you can use every time you do a spell or ritual. This class is not about a specific practice like Hoodoo or Santeria, this is a 101 class for the application of magick as a whole. So no matter what your culture or spiritual practice, you can still benefit from and implement these lessons. A beautiful introduction to Magick Mastery, and a fun way to upgrade your skills! Join me and we will be exploring:
Introduction to Spell Crafting- What is it?
Understanding the Difference Between the Target and Goal of Your Spells
Raising Energy for Your Spells
Mapping Your Magick- Learn Your Magickal Success Rate
Connection to Herbs & Oils
And more!...
This is a one-day class and will be LIVE on Zoom with a playback option. I will also be including a reading list, and other items to help you start using these magickal techniques right away! I'm so excited to see you there!💕
See you in class Witches!💅🏾🔮✨
Early Bird- $75
General Admission- $100
November 4, 2021 5:30pm-7:30pm PST
Perfect for everyone!
I enjoyed the spell class. The class answered alot questions I had since I am beginner. She made it really easy to understand and took the time to explain with detail. I will definitely recommend. Thank you so much!