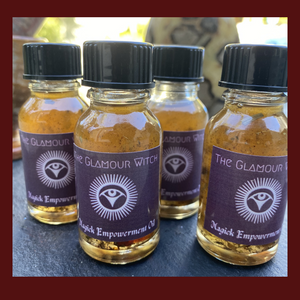 This Powerful Conjure Oil is used to aid you in magick rituals or boost the power of your spell altogether! Blessed with frankincense and master root, this oil blend will unlock your magical potential and help to activate you for whatever work your doing. Charge with Solomonic magick and the power of lapis lazuli, this will put an empowered action in you to begin making magick and manifesting your desires!
Always do a patch test on yourself before rubbing on the body.
I am required to state that this is a curio item
I craft the tools of Magick only, not the outcome.
Your own Energy and Intention are necessary
They smell amazing and look beautiful, so exited to try it
On Fleek!
I use this oil more than anything else... I just realized I'm running low so I have to re-up! It is a staple in my spell work. It gives me a boost and also packs a little power into my work. I L.O.V.E it! Highly recommend!