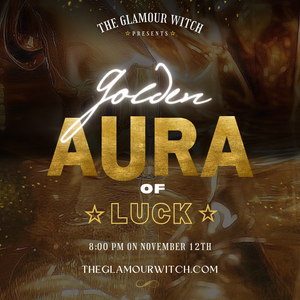 Are you ready to transform your life and supercharge your luck, just in time for the holiday season? Join us for the enchanting and empowering group ritual, "Golden Aura Of Luck," a profound experience designed to enhance your well-being, financial prosperity, and overall fortune. During the holiday season, we all encounter challenges, setbacks, and unexpected obstacles that can leave us feeling drained and disheartened. From delayed flights to unexpected illnesses, financial strains, relationship woes, and more, life can throw its curveballs when we least expect it.

This ritual has been carefully crafted to support you in overcoming these obstacles, finding the best deals, and attracting opportunities you didn't even know existed. As we approach the end of 2023, we aim to ensure that you are in high favor with Lady Luck herself.

As a part of this ritual, we are offering powerful spelled products that will amplify your luck and good fortune. Our signature product, the "Liquid Luck" candle, is specially enchanted to stimulate the flow of good luck and fortune into your life. It will work to open new paths and clear away any obstacles that may have been standing in the way of your luckiest outcomes.

Additionally, we will be blessing a "Liquid Luck" potion during the ritual, allowing you to pair it with your candle for an extra dose of good fortune.

To make this experience even more personal, all participants will receive a short recorded reading after the ritual, providing insight into how this spell will manifest specifically for you. This personalized touch ensures that you can harness the energy of the ritual in the most effective way possible.

Don't miss out on this incredible opportunity to enhance your luck, abundance, and well-being as we head into the holiday season. Join us for the "Golden Aura Of Luck" ritual and set the stage for a brighter, luckier, and more prosperous future. Whether you choose to use these enchanted products for yourself or as a thoughtful gift for someone else, this event promises to be a transformative and enchanting experience that will leave you with a golden aura of luck.

Embrace the magic and join us now!