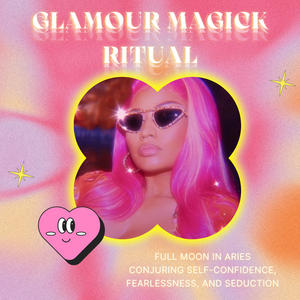 🌕✨ Join us for a Magical Evening under the Full Moon in Aries! ✨🌕
📅 Date: September 29th, 2023 🕗 Time: 8:00 PM PST 🌟 Virtual Event
Are you ready to embrace your inner power, boost your self-confidence, and unleash your fearless spirit? The Full Moon in Aries is here to help you do just that! 🌕♈
🪄 Glamour Magick Ritual: 🪄
During this enchanting virtual gathering, we will harness the potent energy of the Full Moon in Aries to conjure self-confidence, fearlessness, and inner strength like never before. Our exclusive Glamour Magick ritual will guide you in embracing your unique allure and magnetic charm.
💖 Seduction and Sex Appeal: 💖
In the world of Glamour Magick, we celebrate the art of seduction and sex appeal, not only to attract others but also to cultivate a deeper connection with your own sensuality and confidence. This ritual will help you tap into your inner beauty and charisma.
🌙 Special Spell Oil Blessing: 🌙
As a cherished member of this mystical gathering, you will receive a custom and exclusive spell oil that we will charge and bless with the powerful energy of the Full Moon in Aries. This potent elixir will become your secret weapon to radiate confidence and allure in every aspect of your life.
🍂 Embrace the Fall Months: 🍂
As we come together under this extraordinary full moon, we will also be welcoming the fall season and preparing to close out 2023 on a high note. It's a time of transformation and renewal, and our ritual will set the stage for a fabulous finish to the year.
🎟️ Get Your Tickets: 🎟️
Don't miss out on this enchanting opportunity to embrace your inner glamour and step into your power. Secure your spot now and prepare to be captivated by the magic of the Full Moon in Aries.
Can't be there LIVE? No Worries! My Rituals Are Always Recorded and Sent to you for Playback! 
Join us on September 29th at 8:00 PM PST and let your inner confidence shine as bright as the moon itself. It's time to embrace your inner witch and unleash your inner glow! ✨🌕💃🪄✨