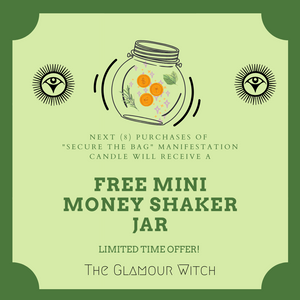 This money shaker jar is used as a kinetic energy ritual, moving and shaking your desire to you. A Custom Mini Money Shaker Jar is included as a free gift with a purchase of the Secure The Bag Manifestation candle for a limited time. If you are seeing this after that offer, you can still order a custom money shaker! You will be required to give some information:
Your Full Name
Date Of Birth
Your Statement of Intent
And a photo of you
Please connect me with your direct email so I can get all information, without this I will not be able to complete the work.
I am required to state that this is a curio item
I craft the tools of Magick only, not the outcome.
Your own Energy and Intention are necessary