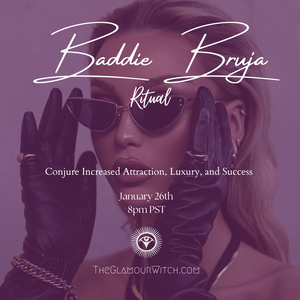 The Fog Has Lifted And We are Ready for 2023! Are you looking to hit the ground running at the top of the year so you can get your goals in motion?✨ This is the ritual!💋 The Baddie Bruja Ritual is all about enhancing your natural ability to attract through your personal magnetism, charm, and style! Using the fortunate energies of Jupiter we will also be conjuring prosperity that comes with ease! Increasing your success in business endeavors and helping you to see your goals to completion! We will be incorporating Glamour Magick in this ritual to increase your appeal, and boost your confidence in your vision! 
THIS IS FOR BOSS WITCHES, MAGICAL GO-GETTERS, AND SPIRITUAL BADDIES WHO ARE TRUE TO THEMSELVES AND STAND IN THEIR POWER!
You step into this magical circle believing in your vision and ready to get after it with all the power you have within you.
If you have plans to turn this year into YOUR Year, join the Glamour Witch Squad and let's get the magic brewing!
This is a virtual ritual and will be recorded for playback, this means even if you can't be there LIVE you can see see the magic! All members will receive a link to the Google Hangout Meeting upon purchase of your ticket.
See you in the circle, Witches!✨🔮💅🏾
Powerful!!!
It's been 2 weeks since the ritual, and since then.... I went back through the Enchantress Society podcast where Alexis talks about glamour majik and the importance of aura health. I started putting it into practice the following Thursday, and now on March 1st I'm launching my podcast! I actually decided to postpone it from Lupercalia to write a new script to talk about my baby steps into the world of Glamour!