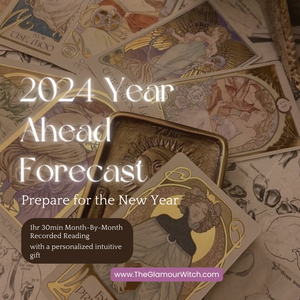 As we edge closer to the start of 2024, why not get ahead of the game? My Year-Ahead Tarot Readings are now available to provide an in-depth, month-by-month energy forecast. Plus, I'll cover your love/romance, money and career, spiritual growth, and health for the year. Your reading will come in the form of a private link to a 1hr 30mins Youtube video. Order before Dec 20 and you'll get a FREE Mystery New Years' Gift with your reading! Don't miss out - explore your possibilities and make the most of the New Year!
Gifts may include: Witchcrafts/Spiritual Books, Custom Candles or Spell Oils, Crystals, Tarot Decks, Jewelry, Altar Tools, or Book of Shadows
This makes a beautiful Christmas Gift for a loved one or yourself!🎁 Please make sure to put the address of the person who you are gifting this, and please email me their full name! 
Email: theglamourwitchla@gmail.com 

 Get Your Reading Now!✨🔮