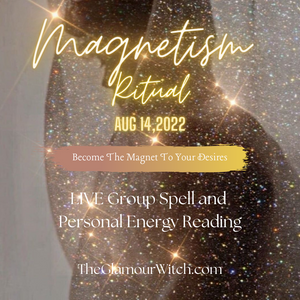 Our magnetism draws in all of our greatest blessings. Improving it can increase the speed and ease at which we see our manifestations come to fruition! This ritual will aid in heightening your magnetic field and intensifying your attraction ability! This ritual is not about beauty or love but the amplification of success in drawing our desires to us!
Each member of the ritual will receive an energy reading after the ceremony, revealing how this will manifest for you and how to best utilize the power of this work.
If this sparks something within you, join the group ritual now! The ritual will be performed on Aug 14th at 9:30 pm PST on Zoom!
Please use the best email to contact you, so you don't miss the magick!
See you in the circle, Witches!✨🔮🕯
LIVE Magnetism Ritual: Increase Your Magnetic Pull and Attract More!
100% recommend, even though I wasn't actually able to make it to the LIVE class 😭💔 I am, however, more than sure it was just as AMAZING as any of @TheGlamourWitchla 's products!
LIVE Magnetism Ritual: Increase Your Magnetic Pull and Attract More!✨?
This was my first ritual with Alexis and it was absolutely amazing! The energies we created were so potent and palpable and I'm still feeling the positive effects of it, 2 weeks later. It was the necessary boost I needed to begin taking those crucial first steps to actualizing my dreams. I look forward to the next ritual offerings!
Wonderful Effective Ritual
This ritual was incredible and The Glamour Witch does a wonderful job of keeping up the momentum and keeping her participants engage. There is a fantastic amount of energy and reading you receive is extremely intuitive. I really feel like I benefited from this and will participate in other rituals in the future. Thank you so much The Glamour Witch, I feel extremely fortunate and grateful.