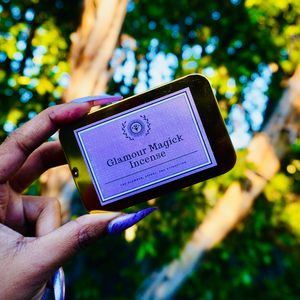 Want to enhance the beauty, allure, and attraction energies of your make-up, clothes, or even YOU? 
This is the one Witch! This loose herbal incense is infused with the delicious scent of honey amber rose, and frankincense to tantalize the senses and draw attention! Blessed to add power to your Glamour Magick Spells, Beauty Rituals, or Attraction Work. Use this incense to cleanse your make-up brushes, crystals, or magickal tools in preparation for Glamour Workings. 
If you have a Self-Love Altar, this can be a beautiful incense to burn when doing your healing work and can support confidence, self-love, and personal magnetism!
This is also the Glamour Magick Incense feature in my Glamour Magick Course!😉💕✨
Purchase Yours Now!
I am required to state that this is a curio item
I craft the tools of Magick only, not the outcome.
Your own Energy and Intention are necessary
Smells Divine!
Got this incense in my Glamour Magick kit and I loveeee it! Smells sooo yummy , love to burn it on my charcoal tablet && use it to dress candles with doing glamour magick spells - I need to get more ASAP, I'm almost out!
Aromatically Enchanting ✨
This is my first time purchasing the Glamour Magick Herbal incense, and I am completely OBSESSED! The smell is bewitchingly delicious, and a little goes a long way! I will absolutely be purchasing this again!!