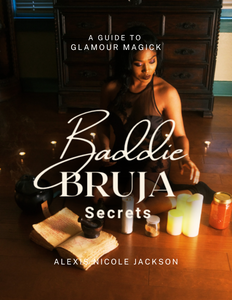 Have you ever wanted to get a peek into a Glamour Witches's Grimoire to see all their secrets tricks and spells? Baddie Bruja Secrets: A Guide to Glamour Magick Ebook will set you up with the best tips, rituals, and techniques to jumpstart your journey to empowerment, confidence, and refining your shine!✨ Uncover the magick that will help you captivate the hearts of many, allowing your true light to shine and attract the kind of respect you deserve! Glamour Magick is more than just beauty spells and attraction magick, it's about manifesting from a place of self-love and healing the wounds of insecurity that stop you from pursuing your passions! It's about shielding your incredible light from evil eyes, jealous haters, and energy vampires so you can continue magnetizing your desires to you! This form of magick has much more versatility than people realize! And you are now one of the lucky few to have access to this kind of skill!
Chapter 1: Self-Love and Empowerment- In this transformative chapter, we delve deep into the realm of self-love and empowerment through the lens of glamour magick. Learn to heal emotional wounds and scars, improve your self-concept, and embrace your true essence. Discover how to empower yourselves through ritual work, creating a strong foundation for your magickal journey. Unleash your inner confidence and become a beacon of empowerment to others.
Chapter 2: Attraction and Beauty- Prepare to be mesmerized by the captivating rituals for increasing allure, attracting romance, and heightening sexual experiences. Bask in the spotlight of your own beauty as you delve into potent spells that draw admirers like moths to a flame. And for those seeking to attract prosperity and big spenders, uncover the secrets to using glamour magick to manifest abundance in all aspects of your life.
Chapter 3: Influence and Enchantment- Enter the realm of enchantment and influence as we explore the incredible power that glamour magick holds to captivate and mesmerize others. Learn how to command attention, increase your recognition, and create magnetic connections with those around you. This chapter will empower you to amplify your prosperity, opening doors you never thought possible.
Chapter 4: Protecting Your Brilliance- In a world where envy and malice may cast shadows upon your brilliance, it's crucial to know how to shield yourself. Discover how to transmute negative energy into beauty-boosting power and navigate through challenges with grace and strength. Unleash your inner warrior and learn to blow back the competition when it's time to stand up for yourself.
"Baddie Bruja Secrets" is more than just a book; it's a transformative journey of self-discovery and empowerment. Whether you're a seasoned witch or just beginning to dip your toes into the world of magick, this guidebook will equip you with the tools to radiate confidence, allure, and prosperity. So grab your spellbook and get ready to embrace your inner baddie bruja—your destiny of magickal elegance awaits!
💅🏾 Welcome to the Glamour Magick Squad💕🥂 Purchase your secret weapon today!🔮 
This is a Glamour Witch Exclusive, which means you will never find it anywhere else but here! Only a lucky few will have access to this work, will it be you? 


This is a digital product 
Great!
Really like the content & very comprehensive!
Fantastic guide to glamour magic
So I went through this one incredibly fast! @theglamourwitchla has PACKED this book chock full with no-nonsense hands on advice and rituals for everything from self care, to magic infused business boosters, to protections that pack a punch.
AJ's writing style is very conversational and relatable, like a chat between besties, while also being highly instructional with a wealth of experience and examples.
I would not recommend this as a go-to for a complete beginner witch just starting out their journey, but if you've been around the block, know your basics and want to explore a different path or change the way you incorporate magic on a daily basis, boy is this the book for you! AJ won't hold your hand on anything (hence why I wouldn't class this for beginners) but she doesn't hold back on incredibly useful, applicable, and POWERFUL rituals and practices that can really elevate your practice and your self in so many ways.
She does use a few Hoodoo elements, which personally I won't be using because I feel it's not my place, but I will look for alternative ingredients that are closer to home for me. This isn't a criticism, just personal belief since I'm a white European and have no business in messing about with Hoodoo because history.
All in all an amazing book and a fantastic resource if you want to get serious with glamour magic.
Thank you to AJ for putting in so much care and effort and sharing her knowledge, expertise, and experience 🙏🏼