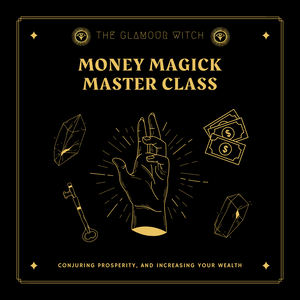 Hello Witches!🔮
My Money Magick Masterclass has arrived!💰 I will be sharing powerful rituals, manifestation techniques, and new ways to use crystals, herbs, and spell oils to call in financial abundance! This hour and a half class will be packed with magical and empowering information to transform the way you look at your money altar, reprogram your money mindset, and improve your magickal ability to conjure prosperity! This is a course perfect for beginners and intermediate practitioners looking to uplevel their money magick. Having you been hitting a wall with your money work? Do you feel like you need to update your magickal knowledge but don't know where to start? Are you overwhelmed by all the spells out there and feeling paralyzed in taking action? Are looking for spellwork that breaks down the barriers to your money that you can continue to use for the rest of your life? This is the class for you! 💰🤑 It's time to uplevel your magickal skill and start getting the results that will help you see the changes you desire! 
What's Included:
Money Magick Master Class Video Presentation- Walking you through the techniques, rituals, and questions you should be asking yourself before you do the magick
Master Money Ritual Instruction- Learn the powerhouse ritual that will make you a person that attracts money and financial opportunities!
30-Day Money Alchemy Challenge- Transforming your magickal skills, creating a stronger relationship with money, and increasing your knowledge of how to create a strong money altar!
Learn How to Empower Your Money Oils with Solomonic Magick!
Access to The Glamour Witch Discord Group to connect with other witches in a safe and private setting!
FREE Books, and Gifts*
 Let's Get To Manifesting This Money! ✨💰💸
*Gifts can only claim with the completion of the 30-Day Money Challenge. Participants must follow guidelines to be eligible for prize! 
Chock Full of Magical Nuggets
First of All, Alexis is a powerful woman! I love her affirmations and they have been very useful. Some of the information in the class I already knew, however, it didn't work for me. But in the last half of the class, that information I will apply as it was resonating with me hard. As an intuitive woman, I am here to tell you not to get discouraged if some of the information doesn't work as it may not be what your benevolent ancestors want you to do. I have to step up my altar work. Thank you, Alexis.
She's THE REAL DEAL
I HAVEN'T BOOKED HER YET, however, I FOLLOW HER ON TIKTOK. I IMPLEMENTED ALL OF HER GLAMOUR AFFIRMATIONS AND BABY I RECEIVED SO MANY POSITIVE RESPONSES, ADVANCES, & ENGAGEMENTS.
A Test of your Consistency
This will force you to be on your game or push you to the next level and keep you accountable. The 30 day challenge was awesome to help foster community and help track your magick in the template she had laid out. I'm currently applying the same dedication to making my new small business happen and really analyze and break old patterns towards money and self worth. It is something I can revisit later. The course material is in depth and the step by step guide is easy to understand, as well as the videos! Totally recommend - @myclaraoceans
Game changer!
Ajay, The Glamour Witch always puts a lot of thought and effort into her courses including this one! Not only was the material informative, accurate, and inspirational but she also created a 30-day money magick challenge and provided a ton of resources to go along with the course. During the 30-day money magick challenge I received an unexpected check from the IRS, I received an extra gemstone ring from an order I placed from my favorite artist, I received free gifts consistently. One thing that this challenged also brought up for me though were my money fears... I'm still working through them but I find myself breaking through them, thanks to this challenge. The course itself has empowered me to continue my practice and has amplified my workings to bring in new business and keep the flow going!
Get your ass in this class!
This class was so worth it! I learned so much and got so inspired by the class itself and I also learned so much by doing the 30 day money challenge. You get to really dive in for a full month and I did see results! My shop orders became more consistent and more people were asking about my consultations! But more than that I noticed a change within myself and how I approach money. I learned a wide variety of spells that I might not have tried before. Amazing work!!