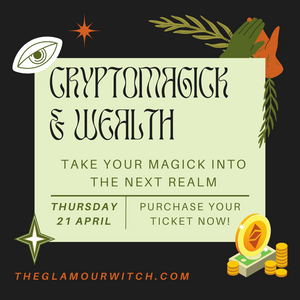 Money Magick in the Modern World! Now is the time to explore magick and the power of cryptocurrency. This masterclass is a continuation of my Money Magick 101, if you are interested in learning the basics, I recommend purchasing the Prosperity Kit! This kit will also include a 25%off discount for this class! Understanding a new money system can be a bit intimidating but as the world changes it is important we stay tapped into the ways money can manifest in our reality. This Masterclass will uncover:
Utilizing Genius Spirits- Intelligent Spirits used for predicting markets like Stocks, Real Estate, and Cryptocurrency. Also seeing what could become a trend in the future!
Increasing Revenue and Sales in your Business
Improving your ability to bring in a continuous flow of unexpected money
And discovering new sources of money and income!
I will walk you through the rituals and techniques of working with Angels like Raziel for the expansion of your Wealth and Financial Abundance!✨💰
Purchase Your Tickets Now and Reserve Your Seat!
Get your Prosperity Kit
Here!
Awesome!
Awesome class with awesome content! Very well put together as always.