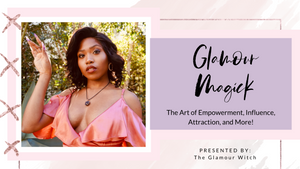 Explore the Power of Glamour Magick and Unlock Your Personal Magnetism!✨ This course is a breakdown of the inner workings of Glamour Magick and the different ways to harness it to achieve success! Glamour Magick is so much more than beauty rituals, it's the alchemy of the mind! Transforming your relationship with yourself, and upgrading your magick! When we can shift our internal world, the external will match it! We can only attract what we want when we believe we deserve it. Whether it is gaining the attention of a crush, getting that job promotion, summoning the confidence to shine on stage, or standing up for yourself in a way you never have; Glamour Magick can give you what you need!  No longer fake it til you make it. Now you can Be It Until You See It!💕 So let's dive into the delicious and nourishing power of Glamour Magick!🔮

You can now learn the magick, and join the community!
Tier 1- Course Content ONLY
Tier 2- Course Content and Baddie Bruja Membership
***The Next (5) Member will receive my Glamour Magick Planner, Baddie Bruja Secrets: A Guide to Glamour Magick, and a pair of gorgeous rose quartz earrings enchanted with Venus energy and Solomonic Magick to heighten physical attraction, magnetize your desires, and bestow you with grace and honor!*** (If you are seeing this, you are still eligible for the gift)
✨And I am now offering:
Baddie Bruja Exclusive Coaching- Students can now receive one-on-one coaching, custom spellwork, and personalized products to help you fast-track your results!
This is an online course, this will include:
4 Class Modules
Introduction to Glamour Magick- What is Glamour Magick? How does it work?
Beauty & Attraction- Enhancing your physical beauty, attracting what you desire! 
Influence, Power, and Business- Rule the Room, Run the Show, and Rise in Leadership
Invisibility & Protection- Defense against unwanted attention, Protect your shine!
Consider Purchasing the Glamour Magick Kit to aid you in the classwork, You will also receive 25% off your ticket price when you include the kit at the checkout!
So Grab Your Notebook and Let's Get to Work Witches!✨💕🔮💅🏾
See You In Class!
More than just attracting a mate!!
This Glamour Magic course has been the gift that keeps on giving in my life. It has empowered me to realize that I dont have to let life happen and that I have more control of my journey than I once realized. I am so good that I can turn on the power from within in just a few seconds. A family member of mine didnt believe that I could do this when we were at a crowded venue and would prefer VIP access. I simply told her to 'watch this'. I turned on my flame inside and caught the attention of the attendant. We were ushered to the front of the line and shown favor; no additional charge or anything. There was no reason for this to happen otherwise.
I want you to know Glamour Magic is so much more than hooking a mate or getting a lover. I primarily use mine for enhancing leadership and forging a career path. I am seen as a valued contributor and climb easier than I have before. My confidence is through the roof and of course that manifests in an even stronger impact. This has been the best gift I have given myself and I cannot wait to see what more I can do.
Best Investment In Myself Ive Ever Made
I didnt come to Aj's course knowing what I was getting into. In fact at the time I was so obessed with trying to get more money that I thought her glamour magick course was a money course. I didnt know I was walking into something I so desprately needed at the time. I felt like I needed money more than I did self love and boy... I found out the hard way. Aj's course taught me through glamour magick how to love myself and value myself more than I ever have. I had a lot of trauma and self loathing that I had to work through, making the process a little more challenging. I wanted to know why I was having such a hard time getting what Aj was teaching but I couldnt be honest with myself. At the time of taking this course I was also in therapy and this course coupled with my therapy I think made me really look at how I was treating myself. The negative self talk, the way I viewed myself and my body, the negativity I created within myself based on trauma from childhood. It became such a difficult thing to really accept that I wanted to drop the course and not try improving myself, but that was EXACTLY what I needed! I felt like Aj had given me tools I didnt have before to help myself on my journey. She gave me the tools I needed to really build myself back up into the person I had to be to get to where I am now. My grounding abilities have gotten better than they were before because of being able to open myself up to these energies and not feel silly. I am able to put on the clothes I feel the most comfortable in, that make me feel like me, and not feel shame or guilt in wearing them just because someone else doesnt like my style. I am able to paint sigils on my face and put intentions into my daily routine that help draw in the exact things I need for that day. Aj gave everyone in their course a box of goodies that contained a candle that she hand made and I used that candle to continue on pushing the rituals and intentions we had in our course. I lit that candle every day and enchanted my little rose quartz vial necklace over that candle. I still wear that necklace to this day. I cannot part with it. It was like a landmark in my journey to loving myself, building myself back up from a place I didnt think I could come out of... I have even planned to get the little vial tattooed on me because it means that much to me. It has given me so much strength in times of self hate, self doubt, and pain. I am an empress, this is my queendom, and Ill never let myself be bested by those who cannot love me for me. Thank you Aj for giving me the tools to love myself and grow into the person I am today. You are an amazing person and I cannot wait to be part of your classes again. Much love.
Powerful Powerful Powerful
I highly recommend this course. I've received a deeper understanding of glamour magick, and have been applying it throughout my life ever since taking this course. I definitely feel sexier and more magickal when I use glamour magick. Alexis is very knowledgeable and makes it easy to learn the ends and outs of glamour magick. Now, thanks to Alexis, glamour magick is part of my daily routine. I also loved the debunking of what glamour magick is not.
Glamour Magic - A must no matter where you are in your journey
The course really sets you up to have a lot of momentum and see it through to change how you view yourself and the world with this practice. The Glamour Witch does an amazing job setting up the fundamentals for this course and guiding you throughout all modules. She is very knowledgeable, super relatable, and fun throughout the entire course. It's like having a close sister-friend teaching you along the way. She really goes into depth to explain each step and component whether for self-work, beauty, business/projects, and co-creation. I recommend purchasing the Glamour Magick kit along with taking the course. The reading you get in the kit is 100% worth it alone. You also receive weekly 1:1 sessions that are really special and personal to you. She takes the time to really guide you with any and all questions you may have. The coaching with the course was a special touch that I believe adds so much uniqueness and a personal touch to your journey. Not to mention the amazing products you receive! I look forward to seeing what else she will share with the world :)